3 months and 18 days later, i am here writing my final entry to my montpellier, france study abroad blog.  yes, it all goes too fast but im going to reflect on a bit of what happened to me over the last semester.
i remember well, being utterly frightened and anxious before I left.  I was worried about the language, switching homes amongst other subconscious things.  i didnt know what my life was going to become.  i remember being miserably tired and completely out of it first arriving in montpellier after a horrifying airport experience in paris.  i remember first walking around in antigone and having a drink at café with rose on that first day in a haze of sheer tiredness.  i remember going to the bull farm and having our very first traditional french meal, i can still taste the delcious mussels and sangria we ate as an appetizer.  i remember first meeting dominique in front of the program office and having that car ride with her where i understood probably about 15% of what she said.  i remember my first evening at the malvarosa home, having lasagna with laura, clémentine, dominique and baptiste.  i remember not being able to understand basically anything they were saying over dinner.  i remember putting my skateboard together with baptiste and first beginning our brother-like relationship.  i remember having a super tough time pronoucing the phrase: ne t'inquiète pas - dont worry. 
i remember taking my first akward shower in the bathroom.  i remember laura walking me to the comedie for the first time.  i remember getting lost walking back home from the comedie.  i remember the first time i biked to the fac as i consulted my direction notes i had in my little notebook.  i remember every trip and travel place i went to.  i remember feeling nervous about coming here.  and now as i think about myself leaving, at 2:39 am, i am ready to go home back to the US, but i cant help but feel that I don't want to leave a bit too.  I enjoy what my life is like here (maybe besides paul valéry and general shitty french organization) and love speaking french everyday.  i am going to miss my life here in montpellier and look back on it with only but smiles and good memories.  i am going to miss dominique and baptiste so very much; they have provided for me so nicely and i owe the world to them.  goodbye to my short-lasting french life/study abroad experience.  thank you for being so kind to me.
look at me now, max.  do i feel very different?  not really.  though, i will say that i can speak, understand and write french a whole hell of a lot better.  thats for certain.  after going to le bookstore this evening to chat and do the conversation night there, it reminded myself of just how much progress ive made in my french speaking, writing and comprehension.  i mean im still making tons of mistakes all over the place and i still dont at all understand everything 100%.  but im pretty happy with the progress that ive made and it only encourages me to continue practicing and speaking in the future.  i truly am devoted to one day being able to speak french fluently, or 'couramment.'  had it not been for my host family, especially baptiste, i definitely wouldnt have learned nearly as much french as i know today.  we sort of had a french/skateboarding exchange as i guess you would say.  ive come a long way i feel, but theres still so much for me to learn.  learning a language never stops really.  but as i am here writing this on my last day in france, i can happily say that I fulfilled the first of my two main study abroad goals: improve my french.  je suis vraiment content du progrès que j'aie fait pendant mon temps à Montpellier.
i also knew that by coming to europe, it would be essential that I travel and explore as much of europe as possible.  i had made this a priority from the get-go and starting with my first trip to wales on the weeekend of oct 8th, i managed to travel and go places in france or in other european conutries nearly every weekend.  the traveling was always super exciting, but also shocking to me as well.  air travel and the simple ability to go to different places still blows my mind.  the fact that I can pay some money, hop on a plane and go from one place and end up in another place is still just downright incredible to me. just a plane ride away and I would end up in another country that speaks a completely different language, has a completely different culture and has so much rich history to explore.  even first flying from newark to montpellier really shocked me.  if you recall, it took me a while to fully comprehend what had just happened and that i was now walking on a different part of this earth.
I put together general list of what I think to be all the places I visited over my time in europe.  its a representation of just how much i saw while i was abroad:
Bethesda, Wales (+ Snowdon Mountain, Caernarfon, amongst other places)
London & Enfield, England
Amsterdam & Haarlem, the Netherlands
Berlin, Germany
Zagreb & Plitvice Lakes, Croatia
Barcelona, Spain
Paris, France and other French Cities -> (Grau-du-Roi, Aigues-Mortes, Carcassonne, Anduze) + (Luberon (L'isle-sur-la-sorgue, Velleron, Fontaine-de-Vaucluse, Chateauneuf-du-Pape, Vaison-la-Romaine, Segurét, Orange, Avignon)
Brussels, Belgium
Venice, Italy
now that ive been home for a little over two days now, europe has left its mark on me.  i look at american products and see the massiveness of the them and it just looks wrong and wasteful.  naturally now, "pardon" comes out even before I can even think to say 'excuse-me.'  i eat slower, i enjoy the taste of wine and breakfasts now for me need to have tartines (slices of quality bread with various spreads, nutella and jams preferably).  my re-adaption back to northeastern time is a constant reminder that my body and mind is still in europe mode.  the time zone difference reminds me that i really did go somewhere else, to me, it feels like a whole other world really.  a super special world filled with beautful history and age, dozens of different languages and cultures, amazing foods/drinks and just a completely different way of life.  i miss it so.  im realizing more and more, that i just spent the last three and a half months in france and now its all over.
i learned about myself and I feel that i am just that much more maturer after my wonderful experience in Montpellier.  Ma vie en France me manque! et j'espère que je continuerai de parler français pendant que je suis à la fac et jusqu'à ce que je reviens au pays francophone.   i am so grateful for my experience and i want to thank my dear parents for making this a possibility for me, easyjet and ryan air, dominique and baptiste and french bread.  je vous aime, particulièrement, le pain français.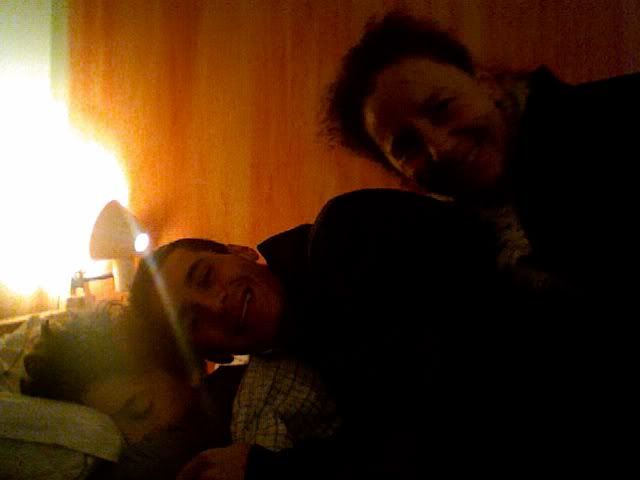 baptiste, max and dominique.  6:19 am.